I often find myself doing lots of projects, fixing something, making something, cooking dinner, baking or just making a mess. Instead of listening to the radio or having the TV on spewing out some mindless dronings, I have found that there are several podcasts out there that are educational and entertaining. 
You probably have to be really into Linux or technology to be able to get through a Linux tech centric episode but these are the podcasts I've subscribed to that I look forward to hearing:
Linux Luddites
The premise of this show is that not all change is progress. The hosts, 
Joe, Paddy and Jesse, are from the UK, produce a bi-weekly show where they try all the latest free and open source software and then decide that they like the old stuff better. 
They are all quite funny and generally grumpy. The banter between them is great. I don't necessarily agree with many of their opinions, specifically their choice in desktop interface or distribution choice but I like to hear their perspective. They are a wealth of great information on applications, Linux / tech news and often the ramifications of political events on free software. Even though they are European centric, they are very well aware of US current events.

I highly recommend this podcast to any Linux enthusiast or techie.
Linux Action Show
A weekly show by Jupiter Broadcasting that covers what is going on in the open source and Linux world. This show covers new gadgets, software, and other tech news. The show is real upbeat and well produced. Hosts Chris and Noah keep the show entertaining and I most of all like it when Noah gets all excited about something. Often his mouth can't keep up with his thoughts. 
I often take notes when listening to this show on what bits of software to try or at least learn more about to see if it would fit or improve my workflow. I'm really impressed with the production quality of this show and what a professional product it is. Certainly worth a listen.
Linux Unplugged
Another show by Jupiter Broadcasting covering Linux and open source topics with the added element of a "Mumble Room" that chime in on the discussion topic. The hosts, Chris and Wes have great perspectives on open source software. An interesting bit to this show is the post show banter with the mumble room where you really hear what people think about a distro or project. 
This is a nicely unscripted energetic Linux podcast that comes out weekly. The interactive nature of this show makes it real interesting. 
Going Linux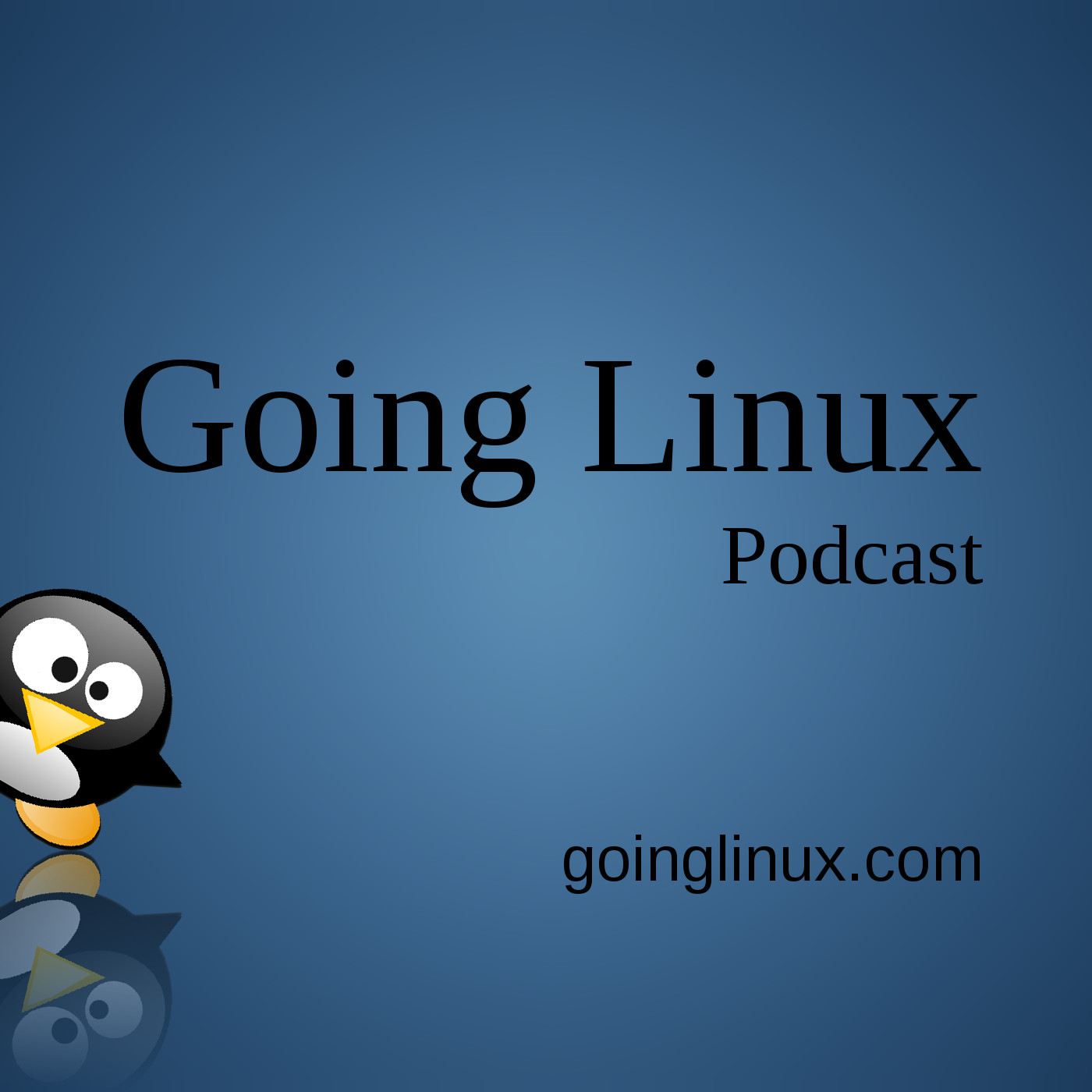 This long running Podcast is focused on those making a transition Linux or just thinking about moving to Linux? Their website and audio podcast provides pragmatic, day-to-day advice on how to use Linux and its applications. The focus is to help make the Linux experience easy.
I really like these guys. They are very relatable and their style to using Linux is very approachable. Larry and Bill have a rather lengthy history with Linux and provide a great resource to those who are getting started with Linux. Larry for more the productive, get-things-done attitude that a computer is a tool and Bill that is a big-time gamer on Linux. It is also very obvious that Bill likes to play a lot when you listen... Their website has some great tutorials and documentation that is really worth the time.
User Error
Another Jupiter Broadcasting podcast, not as strictly Linux focused but the content is Linux centric
. This focuses more on the experiences of hosts with tech and it is a bit more conversational. They make the show out of the mistakes that they have made on their tech journeys. I would say that this is the most "human" of the tech shows I listen to which significantly sets this one apart.
I have found a lot of the information here to be rather inspirational and in many ways a relief that things in your life may not have gone as well as planned. This show too is really worth a listen.
Linux in the Ham Shack
A relatively long lived Podcast for HAM radio enthusiast and open source software. I am not a HAM radio operator but I do find it interesting to hear the how there is a significant number of open source software projects involved in the HAM radio hobby. I had a neighbor growing up that was heavily into it so I often wonder if he using some of the loggers or data transfer... whatevers that are talked about on this podcast.
This is truly a tinkerer's podcast. Those that like to mess under the hood of computers and radios. The hosts seem to be looking for better ways to do... just about anything.
Sure, there are far more exciting entertainment choices out there, but this is my current preference. There is always something new to learn in Linux and all things tech. This has been a great way to learn and work simultaneously. Making the highest and best use of my time... at least, that is my attempt.